San Jamar

At San Jamar, their innovative new ideas regarding food safety, bar and buffet accessories, personal safety and products for sanitary rooms/hygiene come directly from insights they gain from their customers.
That's why they work alongside their customers in every facet of their operations. They listen to their challenges, identifiy potential problems and look for the small changes that could make big improvements in safety and efficiency.
San Jamar launches regularly innovative products on the market which are smarter, safer and more sanitary.
You will find our San Jamar products amongst other things under the category "FOOD":
Also under the category "HARDWARE" you will find multiple San Jamar products:
Finally you will find these sanitary products under the category "AQUA":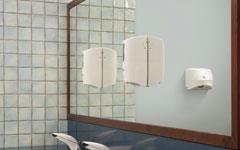 For further information, we would like to refer you to the website of "San Jamar".