Rami
For over 100 years Officine Rami is present on the international market.
The brand name "Rami" is a certitude where you can count on.
As starting point, the company uses its years of experience and their passion for their products.
As a result, the company creates new opportunities to serve the market.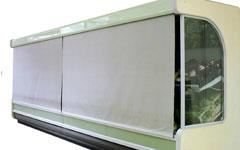 Made of layered polyester G425 LT
Reflects warm air to the outside and retains the cold temperature inside
For wall-mounted furniture, open island furniture, counters, etc...
No condense forming on the night curtain
Easy to install
Energy-saving ...
...
Click HERE to discover our complete range of night curtains.
For further information, we would like to refer you to the website of "Rami".