Polibox

POLIBOX® is a leading manufacturer of expanded polypropylene isothermal containers, suitable for the transport of temperature sensitive and perishable goods.
Today, Polibox containers are used in multiple sectors, ranging from commercial kitchens, supplies to collectivities and specialty stores, banquets and catering, food industry, logistics and pharmaceutical industries.
The company develops boxes that meet the highest quality standards, in full compliance with the European safety regulation regarding food safety.
Linum Europe supplies the distribution in the Benelux, Germany, Austria and Switzerland of the brands Polibox and Thermosteel (isothermal stainless steel soup containers).
Are you looking for light, hygienic, affordable and 100% recyclable isothermal boxes mad of expanded PP (EPP, closed cells), intended for hotels, restaurants, delivery of sandwiches, transport of samples (food, pharmaceuticals, sample surveys, ...) then you're good with Polibox !
Under FOOD - "Storage | Distribution" you'll find the following product range: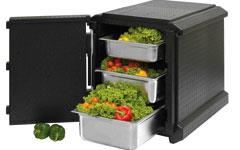 For further information, we would like to refer you to the website of "Polibox".