Great Stuff Pro | DuPont
Great Stuff Pro is a registered trademark of the DuPont Performance Building Solutions group.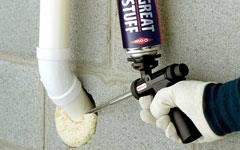 The brand distributes mono-component polyurethane foams, in the first place suited for filling joints, small passageways and hollow spaces. mono-component foam is also used for the sealing of openings in roof constructions, the assembly of windows and doors and the optimization of insulation in refrigerated installations.
PUR-foam is liquid polyurethane in a spray can. After the spraying follows the hardening reaction wherein the product becomes a hard, rigid and light foam. It offers excellent thermal and acoustic characteristics. Great Stuff Pro is a professional foam and is available in multiple executions, strawfoam and gun foam.

In addition, there is also a specific fire-retardant execution: B1-foam (certificate B1 + EN 1366-4 + BS476), available in strawfoam and gun foam aerosol. This foam guarantees 5 hours fire retardance according to the BS-standard!

View our Great Stuff Pro offer within our Linum COOL section
For further information, you can contact us HERE.